Because your browser is caching some weather data on this page (i.e. saving old data to allow the page to load faster), you may need to force your browser to bypass the cache and load the data fresh from the server. To force your browser to load the most recent weather data, click on the
Reload This Page
button below.

If reloading the page does not update some of the weather information, you need to clear the cache in your browser. Usually just clearing the last hour will suffice.
If you are using Google Chrome, in addition to Google tracking every single website you have visited since Al Gore invented the Internet, you might have to clear your browser cache every time you view the page. Ain't technology grand?

Conditions are updated approximately every five minutes. You have to press the
Reload This Page
button above to refresh conditions.
Current weather data is updated every 30 seconds.
Hover your mouse over each gauge, or tap the gauge on your smartphone, to see a graph of weather data since midnight. A second tap on your smartphone will close the graph.
These weather gauges were painstakingly assembled using organically-sourced, tariff-free, non-meddled-with-by-Russians-when-they-were-influencing-elections, electronic components, encased in superior-quality porcelain templates approved by both the American Dental Association and the International Brotherhood of Boilermakers, Iron Ship Builders, Blacksmiths, Forgers and Helpers, as well as one CPA, a school teacher, and two lawyers (lawyers always come in twos – you can't just get one), and overlaid with genuine 22-karat gold leaf applied by hand and carefully mounted on a heavy duty stainless steel plate recycled from the bed of a Ford F-250 truck. If you need to clean the gauges, use a clean, dry, lint-free soft cloth, preferably micro-fiber. Do not attempt to remove the gauges as this will void your warranty and likely ruin your smartphone or monitor. Also, do not tap on a gauge to correct its reading; that is only a gimmick used in movies to warn you that something is about to explode or in real life on your propane tank in the winter when the gauge is stuck. Tapping on one of these weather gauges will only preserve your fingerprints on your screen. However, if you are a movie star, tapping may result in an explosion; therefore, as a precaution, you should always wear safety goggles whilst viewing this page (or peeling vegetables or taking out a loan). Any exception(s) must be approved in advance by the United Association of Journeymen and Apprentices of the Plumbing, Pipefitting and Sprinkler Fitting Industry of the United States and Canada.
The preceding paragraph was neither approved nor sanctioned by any group or individual, is not insured by the FDIC, may not represent the opinions or views of anyone, including the person who wrote it, cannot be used to pay your taxes in lieu of cash, may not be returned for a 15¢ rebate, and is not a substitute for a valid form of identity.
For more information about these gauges and what they display, ==> Click Here.
Sunrise
Sunset
Daylight Amount (Hours:Minutes)
Sunshine Amount in hours
Graphical Plot of the Sun's Current Position

(Script courtesy of Mark Crossley)

Current Moon

(Service provided by www.Der-Mond.org)


For this month's lunar calendar, keep on scrolling down.

Tonight's weather forecast
Dark. Continued dark overnight, with widely scattered light by morning. The weather will continue to change for a long, long time. (George Carlin, 1937-2008)
Today's weather fact
Weather Station Software Uptime (Days:Hours:Minutes)
Option 1: The National Weather Service (NWS) offers a forecast specifically extrapolated for Timber Lakes. Click here for the Timber Lakes Forecast.
Option 2: An alternative forecast for Timber Lakes is calculated by Weather Underground (WU), a commercial company owned by IBM. WU says thanks to Watson, its forecasts are more accurate than those from the NWS. Sherlock Holmes says thanks to Watson, we know about using deductive reasoning to solve crimes. Click here for the WU Timber Lakes Forecast and determine for yourself which forecast is more accurate.
Important Note: The Timber Lakes webmaster prefers Option 1, for several reasons (send us an email if you'd like to know what they are), but whichever option you like best, you should also check out the NWS Forecast Office in Salt Lake City. They post watches, warnings, advisories, maps, and other information about various weather-related issues in Utah. Click here for the NWS SLC Wesbite.
The NWS forecast maps for the next three days:
One-month Precipitation Forecast
At the end of each month, the National Oceanic and Atmospheric Administration (NOAA) predicts the next month's precipitation forecast. Here is their latest guess.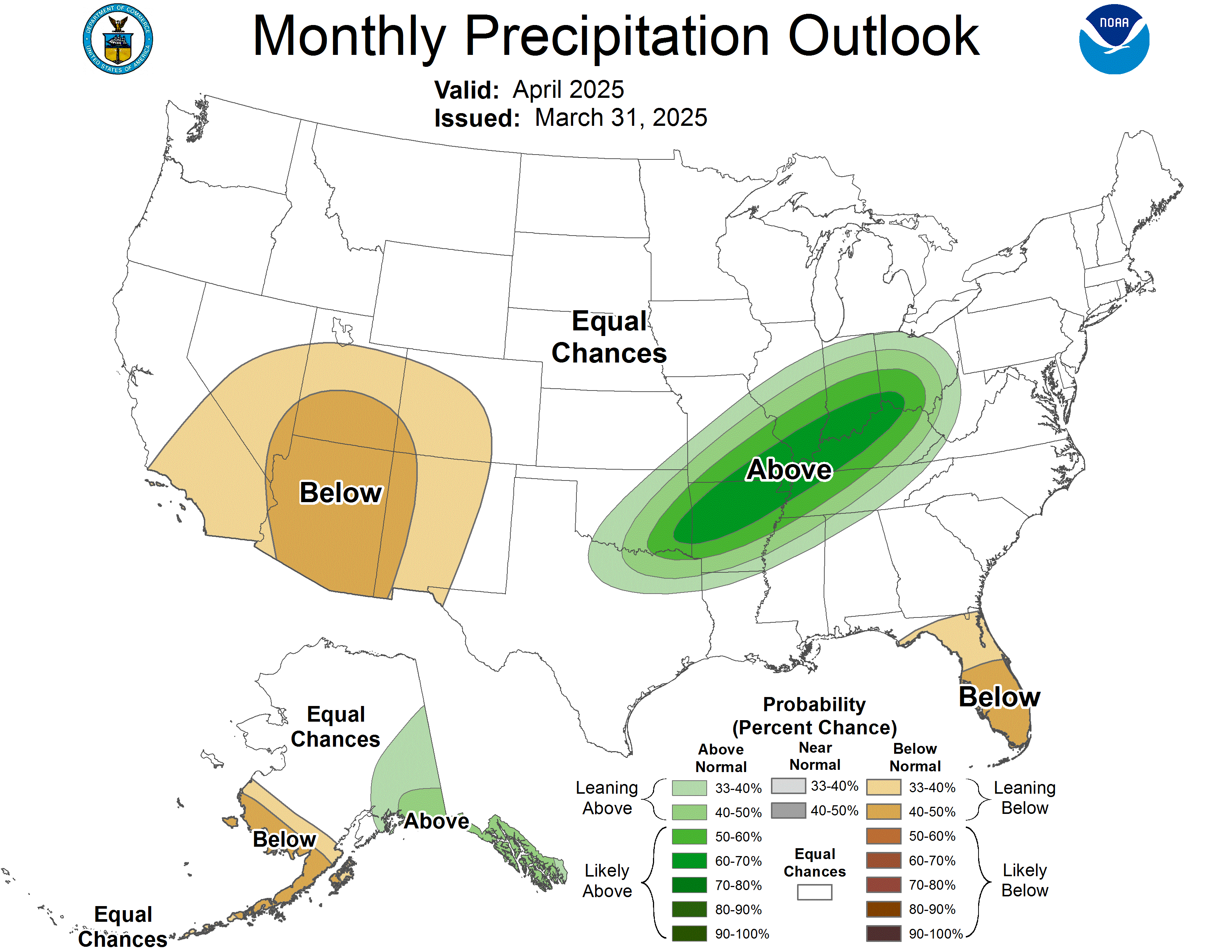 The WeatherCam is updated every two minutes during daylight hours and is disabled at night. You have to refresh the page to load the most recent picture.
The numbers in parentheses indicate the change in readings from the previous hour.
Click the play button below to view an approximate 1-minute (or less) time-lapse video of today's daylight WeatherCam shots. The video is updated hourly beginning one hour before sunrise and ending one hour after sunset. We disable the webcam overnight but you should be in bed then anyway.
The Timber Lakes area wind forecast is provided by Windy.com and is based on the the European Centre for Medium-Range Weather Forecasts (ECMWF). ECMWF is an independent intergovernmental organization supported by 34 European countries. Studies show the ECMWF wind forecasts are consistently more accurate than those projected by the National Weather Service. The forecast is for surface wind, which is measured at 30 feet above the surface of the ground. You can either drag the timeline bar along the bottom or click on the play icon to see how the wind forecast varies over the next 3 days.
The The World Air Quality Index (WAQI) maps air pollution data from more than 12,000 air quality monitoring stations around the world. The data published by WAQI is real-time and therefore unvalidated at the time of publication. However, data consistency is verified, in real-time, with neighbor stations, allowing automatic detection and removal of defective monitoring stations, if needed, from the map. To view current air quality from the stations closest in proximity to Timber Lakes, click here for the
WAQI website map.
               Lunar calendar service provided by www.Der-Mond.org
The records listed here are only for dates after August 12, 2013.
Highest recorded temperature: 87.7 °F on August 18, 2020
Lowest recorded temperature: -14.0 °F on December 31, 2014
Total recorded temperature range: 101.4 °F
Lowest recorded windchill: -30.7 °F on January 1, 2019
Highest recorded heat index: Never – the relative humidity in Timber Lakes is too low for heat index discomfort
Highest recorded pressure: 31.31 inHg on December 9, 2013
Lowest recorded pressure: 28.98 inHg on April 12, 2018
Total recorded pressure range: 2.33 inHg
Highest recorded wind speed: 51.0 MPH on December 16, 2016